---
Posted: 31 Mar 2011 12:42 AM PDT
I haven't given this issue enough attention:
How credit card companies want to debit you, by Dean Baker: Would you like to increase the sales tax in order to pay the banks another $12bn a year in profits? That is the issue that is being debated in Washington, these days. In case you missed it, this is because the issue is usually not discussed in these terms. The immediate issue is the fee that credit card companies are allowed to charge on debit card transactions.
We have two credit companies, Visa and MasterCard, who comprise almost the entire market. This gives them substantial bargaining power. ... Visa and MasterCard have taken advantage of their position to mark up their fees far above their costs. This is true with both their debit and their credit cards, but the issue is much simpler with a debit card. ... While ... costs are quite small, the credit companies take advantage of their bargaining power to charge debit cards fees in the range of 1-2% of the sale price. They share this money with the banks that are part of their networks.
This fee is, in effect, a sales tax. Since the credit companies generally do not allow retailers to offer cash discounts, they must mark up the sales price for all customers by enough to cover the cost of the fee. This seems especially unfair to the cash customers... Those paying in cash ... tend to be poorer than customers with debit or credit cards, which means that this is a transfer from low- and moderate-income customers to the banks.
This is where financial reform comes in. One of the provisions of the Dodd-Frank bill passed last year instructed the Federal Reserve Board to determine the actual cost of carrying through a debit card transfer and to regulate fees accordingly. The Fed determined that a fee of 10-12 cents per transaction should be sufficient to cover the industry's costs and provide a normal profit. The Fed plans to limit the amount that the credit card companies can charge retailers to this level.
This would save retailers approximately $12bn a year... The prospect of losing $12bn in annual profits has sent the industry lobbyists into high gear. They have developed a range of bad things that will happen...
The credit card industry and the banks really don't have a case here; they are just hoping that they can rely on their enormous political power to overturn this part of the financial reform bill. ... Brushing away their rationalizations, their argument here is that they want larger profits and they have political power to get them. That may turn out to be true.
Number of Establishments and Employees per Establishment
Posted: 31 Mar 2011 12:33 AM PDT

[Click to Enlarge]
More from macroblog: A disturbing trend: No growth in total business establishments
Posted: 31 Mar 2011 12:24 AM PDT
I wonder what will happen politically when, after having a huge fight over Social Security and finally "saving" the program through some ill-advised bipartisan compromise, people realize that they've given up quite a bit, but the budget picture has hardly changed at all.
Why Do Central Banks Have Discount Windows?
Posted: 31 Mar 2011 12:15 AM PDT
The names of the banks that borrowed from the Fed during the financial crisis will be released today by court order. It's probably just a coincidence that this post on the history of the discount window and the stigma of being identified as needing to use it appeared on the new blog from the NY Fed:
Why Do Central Banks Have Discount Windows?, by João Santos and Stavros Peristiani, Liberty Blog: Though not literally a window any longer, the "discount window" refers to the facilities that central banks, acting as lender of last resort, use to provide liquidity to commercial banks. While the need for a discount window and lender of last resort has been debated, the basic rationale for their existence is that circumstances can arise, such as bank runs and panics, when even fundamentally sound banks cannot raise liquidity on short notice. ... In this post, we discuss the classical rationale for the discount window, some debate surrounding it, and the challenges that the "stigma" associated with borrowing at the discount window poses for the effectiveness of the discount window. ...
Stigma

While the discount window is an important tool for central banks dealing with liquidity problems that may threaten financial stability, its effectiveness depends critically on the willingness of banks to borrow from central banks. Banks are often reluctant to borrow from central banks not only because this source of liquidity tends to be expensive but also because of the "stigma" that is associated with discount window borrowing. ...
If a bank worries that borrowing from the discount window will lead other banks to doubt its fundamental solvency, it may avoid the discount window even if the discount window provides the cheapest funds available.  Instead, the bank may liquidate marketable assets or try to borrow in the interbank market at onerous terms, further straining these markets and making it even more difficult for other banks to obtain funding or sell assets.  Thus, central banks typically disclose only a limited amount of information about discount window activity to avoid branding healthy (but illiquid) banks as weak.  The Federal Reserve, for example, has historically published the total amount of borrowing from the discount window on a weekly basis, but not information on individual loans.[1]  By allowing banks to borrow confidentially, this policy aims to make healthy institutions more willing to use the discount window during periods of market stress. It should be emphasized that confidentiality is not meant to protect the identities of individual banks per se, but rather to make the discount window more effective in dealing with market disturbances.
Central banks have long recognized the challenges that stigma creates for the effective operation of the discount window during crisis. Donald Kohn, former Vice Chairman of the Fed, has discussed the stigma problem in past speeches. "The problem of discount window stigma is real and serious. The intense caution that banks displayed in managing their liquidity beginning in early August 2007 was partly a result of their extreme reluctance to rely on standard discount mechanisms," Kohn noted in a 2010 speech.  In fact, the need to mitigate stigma influenced the design of some of the lending facilities, such as the Term Auction Facility, created by the Fed during the financial crises.[2]
In sum, the discount window is a vital tool to maintain the uninterrupted functioning of the banking system, but its effectiveness may be limited by the stigma associated with using it. This explains why policies that aim at dealing with the stigma of discount window borrowing are so important. Admittedly, the existence of the discount window may create some moral hazard, but of course, the Federal Reserve limits moral hazard by restricting discount window access to depository institutions that are closely regulated and supervised by federal banking authorities.
Posted: 30 Mar 2011 10:01 PM PDT
About That Striking Graph from John Taylor
Posted: 30 Mar 2011 12:42 PM PDT
Since I posted this graph, I should post the follow-up from Justin Wolfers:
How to Spot Advocacy Science: John Taylor Edition, by Justin Wolfers: Sometimes you see the perfect piece of evidence. The scatter plot that is just so. The data line up perfectly. And then you realize, perhaps they're just too perfect. What you are seeing is advocacy, dressed up as science. Here's an example, provided by John Taylor (via Greg Mankiw):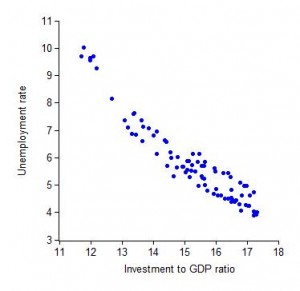 Taylor's conclusion: the data on spending shares show that the most effective way to reduce unemployment is to raise investment as a share of GDP. But why begin the scatter plot in 1990? There's no good reason. In fact, most folks typically download the entire history of available macro data. So let's see what happens if we extend it back to, say, 1970: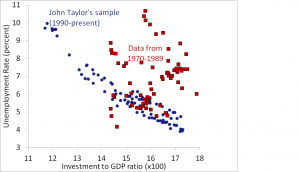 Hmm… What conclusions should we draw about this relationship? And now why do you think Taylor began his sample in 1990?

Actually, we should use all the available data. The chart below goes back to 1948, when these series—in their current form—began: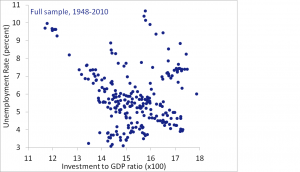 Now what's your conclusion?

Here's Mankiw's assessment of Taylor's claim: There's no doubt that the strength of the correlation is impressive.

But when you look beyond the cherry-picked sample, the correlation is a decidedly unimpressive -0.14.

Here's my conclusion: On balance, times in which the investment share is higher, are slightly more likely to be good times. But I'm not sure why. Is it—as Taylor asserts—that high investment shares create good times? Or is it that good times encourage investment? Or is it a third factor—perhaps in good times the government doesn't need to prime the fiscal pump, and so the investment share is higher? Or is it something else?

Be wary of economists wielding short samples.
Paul Krugman on Taylor:
What's Behind Low Investment?, by Paul Krugman: This post by John Taylor is getting a lot of attention, because it does show a striking correlation between investment and unemployment
But when Taylor leaps from that correlation to saying that what we need for economic recovery is to "lighten up on the anti-business sentiment coming out of Washington," I wonder what is going on in his head.
I mean, Taylor presents another graph, showing a plunge in fixed investment since 2006:
But that's overall fixed investment. Let's decompose it:
BEA
It's mostly the housing bust! Yes, business investment is low — but no lower than you might expect given the depressed state of the economy. In fact, business investment is roughly the same percentage of GDP now that it was at the same stage of the much milder 2001 recession.
What the data actually say is that we had a catastrophic housing bust and consumer pullback, and that businesses have, predictably, cut back on investment in the face of excess capacity. The rest is just politically motivated mythology.
More People Covered, the Deficit Falls
Posted: 30 Mar 2011 11:07 AM PDT
Quick post before heading to the airport.
Testimony on Last Year's Major Health Care Legislation, CBO Director's Blog: This morning I testified before the House Energy and Commerce's Subcommittee on Health on CBO's analysis of the Patient Protection and Affordable Care Act (PPACA) and the health care provisions of last year's Reconciliation Act. With the staff of the Joint Committee on Taxation (JCT), we have provided the Congress with extensive analyses of the legislation, and my written statement summarizes that work.

Effects of the Legislation on Insurance Coverage and on the Federal Budget

Number of People with Insurance Coverage: We estimate that the legislation will increase the number of nonelderly Americans with health insurance by roughly 34 million in 2021. About 95 percent of legal nonelderly residents will have insurance coverage in that year, compared with a projected share of 82 percent in the absence of that legislation and 83 percent currently. The legislation will generate this increase through a combination of a mandate for nearly all legal residents to obtain health insurance; the creation of insurance exchanges through which certain people will receive federal subsidies; and a significant expansion of Medicaid. ...
Net Budgetary Impact of the Legislation: PPACA and the Reconciliation Act also reduced the growth of Medicare's payment rates for most services; imposed certain taxes on people with relatively high income; and made various other changes to the tax code, Medicare, Medicaid, and other programs. As you can see in the figure below, those provisions will reduce direct spending and increase revenues, providing an offset to the cost of the coverage provisions. According to our latest comprehensive estimate of the legislation, the net effect of changes in direct spending and revenues is a reduction in budget deficits of $210 billion over the 2012-2021period. In addition to those budgetary effects, the legislation will affect spending that is subject to future appropriation action. CBO has estimated that the Internal Revenue Service and the Department of Health and Human Services will each incur costs of between $5 billion and $10 billion over the next 10 years to implement the legislation. The laws also authorized other appropriations, most of which were for activities that were already being carried out under prior law or that had been previously authorized.

 Estimated Effects of PPACA and the Health Care Provisions of the Reconciliation Act on the Federal Budget

(Billions of dollars, by fiscal year)
My written statement describes this estimate in more detail and touches on other effects that we have estimated—including the budgetary impact in the second decade and the laws' impact on health insurance premiums and employment. ...
You are subscribed to email updates from Economist's View
To stop receiving these emails, you may unsubscribe now.
Email delivery powered by Google
Google Inc., 20 West Kinzie, Chicago IL USA 60610